Latest LIC research reaffirms users of LIC genetics in New Zealand are achieving faster rates of genetic gain – almost doubling the speed of improvement in their herds. 
Through increased uptake of genomic bulls and having a sharper focus on herd improvement, farmers using LIC genetics are achieving an average rate of genetic gain of 18gBW in their herds per annum, well above the balance of the industry (averaging 10gBW).
Between 2017 – 2022, long-term users of LIC genetics had achieved almost double the rate of genetic gain per year compared to herds with less than 20% progeny sired by an LIC bull.
LIC Chief Executive, David Chin, said the data shows the size of the prize for New Zealand's dairy sector by only breeding from the best cows.
"It's incredibly pleasing to see that farmers who predominately use our bulls are achieving significantly higher rates of genetic gain in their herds.
"They are attaining greater milk production from fewer cows, while also breeding animals that are more emissions efficient. This is positive news not only for the profitability of our farmers, but also the long-term environmental efficiency of New Zealand's dairy sector."
"The widespread use of genomics in our breeding programme, alongside farmers' commitment to herd improvement, has been instrumental to the faster rates of genetic improvement we're seeing."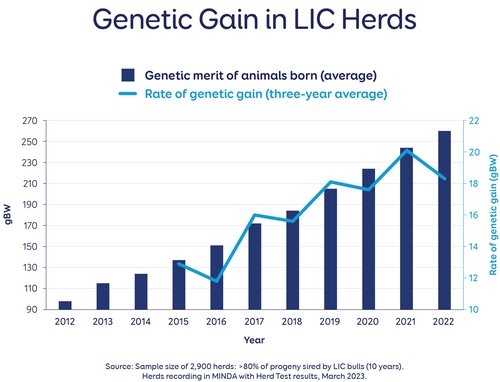 All cows aren't created equal
As part of LIC's commitment to helping their farmers breed the best cows faster, we examined the full spectrum of herds recorded in the co-op's herd management software MINDA, which reaffirmed high BW cows were more efficient milk producers than low BW cows.
Close to 1 million cows, from current MINDA and herd tested herds aged between 4 -8 years-old, were grouped by breed and split into quartiles based on BW. The average (per cow) milk production, liveweight, and fertility breeding value (BV) from each quartile was calculated.
Results showed a significant opportunity in milk production and efficiency between the top and bottom quartile of cows. Not only are these cows in the top quartile more efficient at turning feed into milk, but they also weigh less and have a lower emissions footprint.
Future-focused lens
Chin said the co-op also has their eyes on the future, with continued investment into research and development to keep our farmers at the forefront of the global dairy industry.
"We continue be one of the largest investors in R&D for the primary sector, and this investment is contributing to solutions that will help our farmers remain profitable and sustainable for years to come.
"This, combined with our world-leading genetics and technology, is helping farmers to breed the best cows, faster today, while also ensuring that they have the tools they need for the future."